Contact Info
A+ Non Slip Surfaces LLC
18043 W Post Dr
Surprise, AZ 85388
Phone: 623-202-1028
Contact Form
Website:
www.aplusnonslip.com
Photo Tour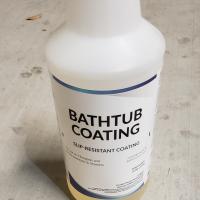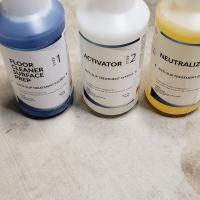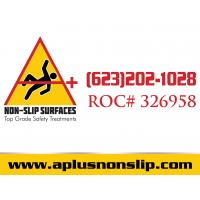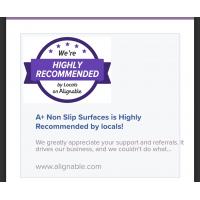 Services
Senior living, rehabilitation hospitals
Polished marble, travertine, etc.
Hours of Operation
Open 7 days a week/24 hours a day
About Us
Safer Floors in your Home or Business

A+ Non-Slip Surfaces LLC

specializes

in helping businesses and homeowners reduce the risk of slip-and-fall accidents due to wet and slippery conditions. We do not sell products but a solution to your problems and are a specially trained and certified installer of all Slip Doctors products for all of your problem areas with real proven results.

Our application

works at the micro-pore level to improve traction;

making your slippery surfaces safer. With no residue, the appearance of your floors is not changed in any way, so it's not a coating we apply which makes us different from anyone else.

Our process is a treatment that produces a reaction with the minerals found in stone surfaces such as tile which is invisible to the naked eye; not changing the appearance, texture or color to the tile and does not wear off. We will always test the area to be treated in an inconspicuous area to determine if our non-slip treatment will work; also to determine the amount of time for the product to work. There is no drying time for floors, the surfaces treated can be used immediately after treatment.



Our Anti-Slip treatments meet and exceed OSHA and ADA guidelines to prevent slip-and-fall accidents.

Falls account for over 8 million hospital emergency room visits, representing the leading cause of visits. According to the Consumer Product Safety Commission (CPSC), floors and flooring materials contribute directly to more than 2 million fall injuries every year.

From head injuries to even death, slip and fall accidents are very dangerous for everyone; particularly the elderly population.

We have your solution to problem areas and work with many different surfaces such as

wood, porcelain tiles, ceramic tiles, quarry tiles in commercial kitchens (where oil and grease accumulation is a problem), travertine, metal, epoxy coated surfaces, concrete, acrylic/fiberglass tubs, ramps in stadiums, boat decks, concrete or tile patios, slate, pavers, polished marble and other high-gloss natural stone surfaces.



With any of our services, we provide a standard proper cleaning of your floors or bathtub (not some harsh chemicals) along with a

written 2-year warranty on all work

and provide you with a new way to clean your floors and tubs as well as checking back with you every 6 months to make sure you are satisfied with the product and service.

A business may even be eligible for tax credits and or tax deductions to comply with non-slip ADA guidelines and your workers compensation and liability insurance may even be reduced

; however, it is up to you to contact your tax and insurance professional to determine this.

Call now for your free no obligation quote and free floor safety audit (a $300 value) or any questions.

We look forward to helping you with any concerns you may have about slippery surfaces. We want to help you address and correct the problem. We work with homeowners, restaurants, hotels, banks, senior living facilities, senior rehabilitation facilities, boat owners, local swimming pools, fitness centers, swim schools, schools and colleges that have sports teams, manufacturing plants and many others.

The time to prevent a slip and fall accident is BEFORE

one happens.



Richard Campbell
Owner of A+ Non Slip Surfaces LLC
ROC#326958
Licensed, Bonded, Insured

We'll Impress You
First and foremost, we will always listen to you as our client which is priority number one, we are trained to properly clean and treat floors to minimize a slip and fall accident and we will show you how to properly care for and clean your floors or bathtub after our treatments (and it's not chemicals), and we are trained to find other potential risks. We have a 2 year written warranty on all of our work.